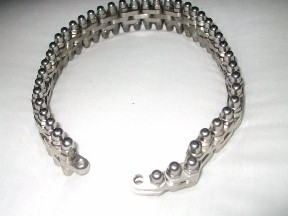 The pictures of my jewellery show the versatility of the method of construction, as well as it's chunky good looks. This collar can be worn as day to day jewellery, or the same construction makes splendid bracelets. Compared with a solid or band type of collar you may also find that not only is my design more comfortable, being flexible, but that it is less 'in your face' for day to day wear. You may be able to wear one of my collars to work but possibly not other designs.
Ok so far. But, it does not stop there. This is not just jewellery. It is a jewellery constructional system. The jewellery is made from links fastened by stainless studs and dome head bolts.This constructional method can be used to make a collar or bracelet or anklet to whatever diameter you want, and as wide as you want, just use longer studs. And modification is easy for the customer to do, the only items needed are a couple of 8mm open spanners and a bottle of Loctite type stud fastening adhesive. Simple instructions are included with any purchase.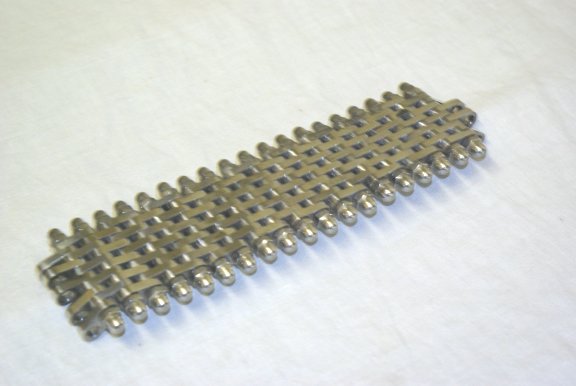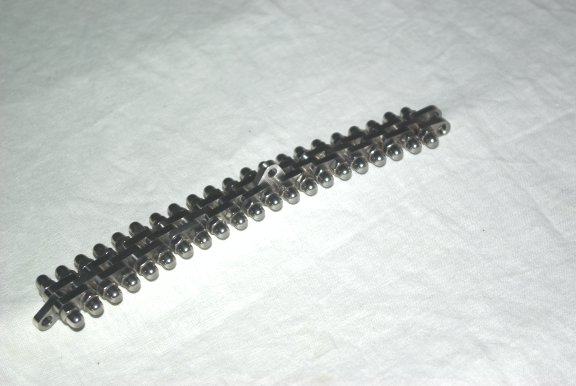 You can experiment with the fit to get it just how you want it. My experience suggests that this design can be worn as a quite close fit if wished, and still be comfortable, due to it's flexibility- but I would advise that a steel collar should never be tight, it may feel good for a little while, but it is not a good idea, you do not want to be blocking arteries. The jewellery achieves its flexibility by use of studs and nuts, the nuts screwed loosely onto the studs to allow movement in the links, and the nuts held in place by Loctite. If you need to undo the nuts then use of spanners will break the adhesive seal, but the nuts will not undo by hand or work loose during wear. Plus there is a choice of fastenings and you can decide for yourself by means of easily changing the ends of the jewellery.
1) 'day to day' fastening, with a dome nut and spring washer (supplied)

2) locked fastening, simply alter the ends of the jewellery as shown in the diagram below, you can use a small padlock (not supplied) as fastening.

3) 'permanent' fastening. If the jewellery is fastened by a standard nut and stud, Loctited, (apply a drop of Loctite to the stud and screw the nut on by hand) then you will find that you cannot get a spanner to the nuts anywhere on the jewellery! The nuts are too close together, and will not undo by hand. Closing the jewellery like this makes it effectively permanent. It would have to be cut off, so be sure that is what you want, it is 10-mm thick stainless steel and will not cut easily. However unlike other forms of jewellery, cutting it off does not destroy it! Send to me for spare pieces and you can effect a repair quickly and easily.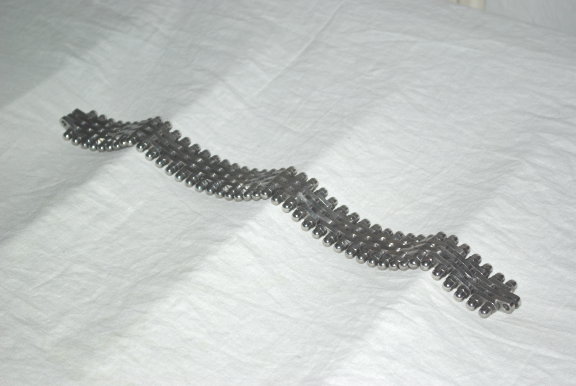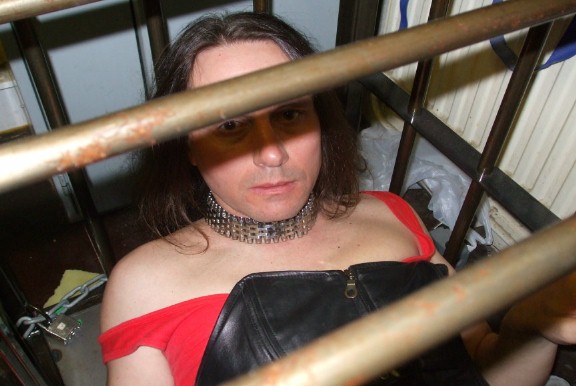 I can offer collars as pictured to whatever length you want, in steps of 10mm, Standard width as pictured is 32mm, links being 4mm thick, nuts 10mm approx. Just give the length you require in mm, be generous- the neck and other joints do vary in size depending on position and muscle movement- and I will send you your jewellery plus a spares kit of a few extra links nuts and studs for length adjustment and fastening changes. Oh and a bottle of Studlock too.
Remember if you are overgenerous in any size order it is the work of a few minutes for you to make it smaller. And you can always add to it by ordering spare parts- for example buy a collar and make it wider by adding more links on longer studs. If you want a wider collar, or you would like a wide cuff type bracelet, I can assemble them for you to special order, just get in touch tell me what you want and I will give you a free quote: or order parts from the spares section to assemble yourself. Get your slave to make their own collar! There is a breakdown of jewellery and parts size and price details on the Size and Price page. More to come including different size/design pieces and finishes. Mike